Lexington County unveiling new patrol cars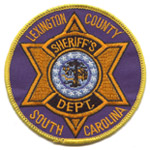 LEXINGTON, S.C. (AP) — Lexington County deputies are showing off their new standard patrol vehicles.
Sheriff James Metts says the new cars are being unveiled on Saturday during a car and motorcycle show in Lexington.
Metts says the new vehicles replace the agency's Ford Crown Victoria, a model that was discontinued last year.
The cars have standard colors but feature new markings and graphics, and Metts says they are designed to best meet his deputies' needs.