Parents charged in 4-year-old Columbia boy's death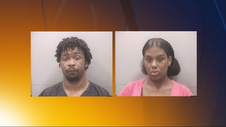 COLUMBIA, S.C. (AP) — Richland County deputies say a 4-year-old boy has died after he was beaten and abused by his parents.
Sheriff Leon Lott said investigators were called to a Columbia home Monday night after the boy was found dead.
The coroner's office said an autopsy determined the boy died from blows to the head and body, and Lott says there was evidence the boy also suffered from other pain and suffering no child should have to endure. He did not give specifics.
The boy's parents, 25-year-old Courtney Thompson and 28-year-old Robert Guinyard have been arrested and charged with homicide by child abuse. It wasn't known if they had lawyers.
The sheriff says five other children and a newborn have been removed from the home.