Ex-SC treasurer facing DUI arrest in Hamptons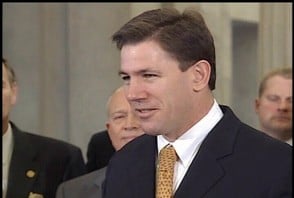 COLUMBIA, S.C. (AP) — Former South Carolina state Treasurer Thomas Ravenel has been charged with drunken driving in New York.
Ravenel was arrested at around 2:30 a.m. Monday in East Hampton Village. Police say the 50-year-old real estate developer drove onto the shoulder of Montauk Highway, then crossed the double yellow line.
Police say they smelled alcohol on Ravenel's breath, and he was unsteady on his feet. Officers say he failed several field sobriety tests and refused a breathalyzer.
Ravenel says he wasn't drunk and will fight the charges. He is free on $650 bond and is due in court later this week.
Ravenel resigned as treasurer just six months after taking office in 2007. The Republican pleaded guilty to buying cocaine for himself and to share with friends, serving a 10-month federal sentence.