12 Killed in Washington Naval Yard Shooting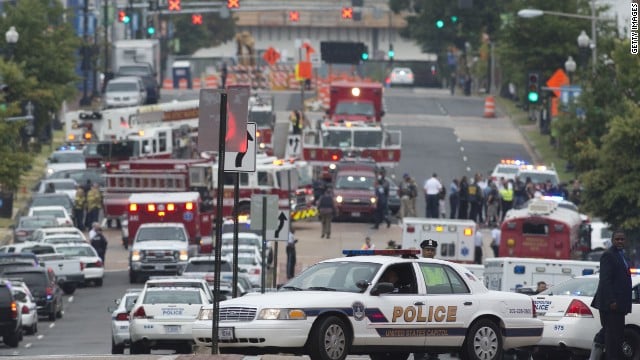 WASHINGTON, D.C. (ABC)–At least 12 people were killed and several injured in shooting rampage this morning inside the Navy Sea Systems Command headquarters building in Washington, D.C., according to officials.
Metropolitan Police Chief Cathy Lanier said authorities are searching for two additional men who are considered "potential" shooters. She declined to discuss what evidence led police to believe the massacre could have potentially been carried out by multiple shooters.
"We have reason to believe these people may be involved and we want to talk to them," Lanier said. She said there was "no known motive" for the massacre.
She said the other two men being sought were wearing military uniforms.
"There is no information to believe they are military personnel, but they are wearing military uniforms," Lanier said.
The chief said one possible suspect was white in a khaki uniform, wearing a beret and carrying a handgun, and the other was described as black man in his 50s wearing an olive drab uniform and carrying a long gun.
One of the wounded was a law enforcement officer who was shot in an exchange with the gunman.
"I think the actions by the police officers, without question, helped to reduce the number of lives lost," Lanier said.
President Obama said he has been briefed on the situation and spoke about the shooting at the beginning of a news conference.
"We are confronting yet another mass shooting, and today it happened on a military installation in our nation's capital," he said.
Obama said he wanted a "seamless" investigation into the shooting and is standing with the victims and their families affected by what he called a "cowardly act."
"It targeted our military and civilian personnel, men and women who were going to work, doing their job protecting all of us. They are patriots and they know the dangers of serving abroad," Obama said. "But today they faced the unimaginable violence that they won't have expected here at home."
Two law enforcement officers were among the injured when the suspect fired shots inside the 3,000-person building at 8:20 a.m. Law enforcement officials initially told personnel to evacuate the building but they were later told to shelter in place.
A spokesman for the Bureau of Alcohol, Tobacco, Firearms and Explosives sent a team of special agents to help secure the scene. This is the same team that helped apprehend Boston Marathon bombing suspect Dzhokhar Tsarnaev, according to the spokesman.
Three gunshot victims were taken to Washington Medical Center with "severe injuries," according to Janis Orlowski, chief medical officer at the hospital.
The victims were described as a male Metropolitan police officer who had "multiple gunshot wounds to his legs," a woman who was shot in the head and the hand and another woman who was shot in the shoulder.
Orlowski said all three are in critical condition, however they are conscious and are expected to survive.
She said the hospital is expecting to receive more victims, but she was not sure how many.
Patricia Ward, a logistics management specialist at the Navy Yard, said she heard a series of shots, at least seven, in rapid succession.
"A few of us just ran outside the side exit," Ward said.
Outside the building she saw a security guard with her gun drawn who told them to run and shelter.
Ward said the building has security.
"You need a car to enter the building. It's very hard to get in without a card," she said.
"Being with the incident that happened today, not secure enough for me," Ward said.
Frank Putzo, an attorney at the Navy Yard, told ABC News affiliate WJLA he was on the fourth floor of the building when the shooting began.
"We heard three sounds, it sounded like a table collapsing on the ground," he said.
He said he came out of his office and heard a "very loud pop" about a minute later that he estimated was about 100 feet away.
"When that happened everyone said, 'This is no drill, go, go, go,'" he said. "And a whole bunch of us were able to make it to the emergency exits. And we heard several more shots."
Planes have resumed flying out of nearby Reagan National Airport after a ground stop was imposed by the FAA due to the ongoing situation at Navy Yard earlier this morning, a Metropolitan Washington Airports Authority spokeswoman told ABC News.
The Naval Sea Systems Command, the largest of the Navy's five commands, is responsible for engineering, building, buying and maintaining ships, submarines and combat systems in the Navy's fleet.
Navy Yard Shooting Death Toll Zooms to at Least 12
At least 12 people were killed and several injured in shooting rampage this morning inside the Navy Sea Systems Command headquarters building in Washington, D.C., according to officials.