Person Hospitalized After Columbia Blaze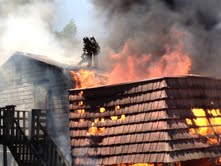 (WOLO) COLUMBIA,S.C., —
One person is in the hospital after a late night fire at the Marion Street High Rise Apartments at 1930 Marion Street. Fire officials say they responded to the complex for a fire alarm.
The fire was contained to one until inside the complex, but occupants on floors 1, 2, and 3 were evacuated as a safety precaution.
Authorities say cause of the fire was the result of smoking while using oxygen. One occupant was transported to a local hospital with injuries. 
(Source: Columbia Fire Department)