USC Men Prepare For Tough Game With OK State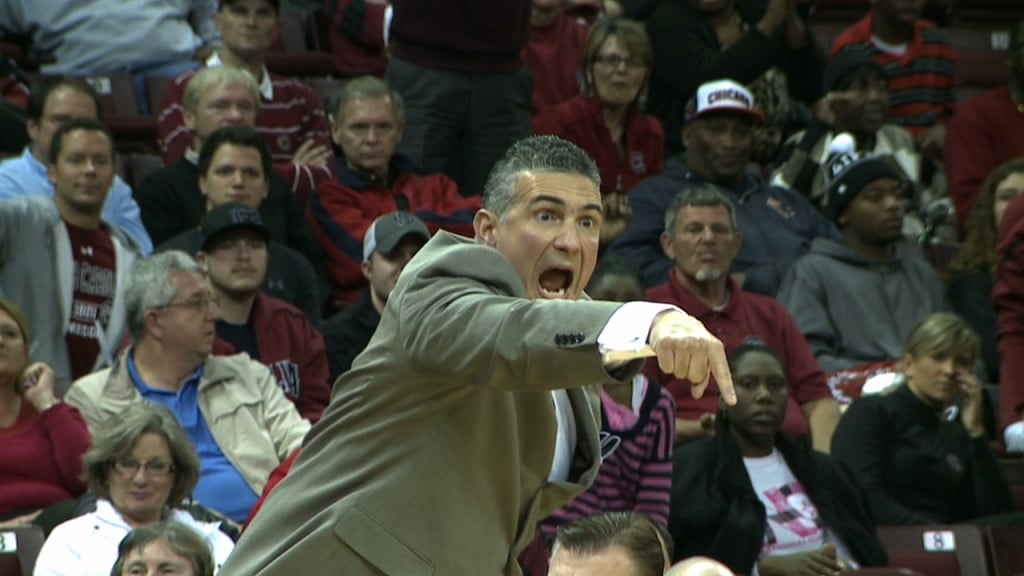 COLUMBIA, S.C. (USC SID) – South Carolina returns from a near two-week break from games when it travels to No. 9/11 Oklahoma State on Friday as part of ESPN's Big 12/SEC Challenge.
The meeting marks just the second all-time between the two schools and the first since the 1975-76 season. The contest will be televised on ESPNU with tip time set for 9:30 p.m. ET.
Full Release:
http://www.gamecocksonline.com/sports/m-baskbl/spec-rel/120413aaa.html
OPENING TIP
Date: Friday, Dec. 6, 2013
Tipoff: 9:30 p.m. ET
Location: Stillwater, Okla.
Arena: Gallagher-Iba Arena (13,611)
Series: South Carolina leads 1-0
Last Meeting: South Carolina win, 70-61, Dec. 23, 1975, in Columbia, S.C. (Carolina Classic Tournament)
Broadcast: ESPNU
Talent: Mitch Holthus (pxp), Reid Gettys (analyst)
Radio: Gamecock Radio Network/107.5 The Game in Columbia
Sirius: N/A; XM: N/A
Talent: Andy Demetra (pxp), Casey Manning (analyst)
Carolina Quick Hits
– South Carolina is in its 106th season of basketball.
– The Gamecocks are led by Frank Martin in his second year. Matt Figger is the associate head coach, and Perry Clark and Lamont Evans are assistant coaches. Andy Assaley is in his second year as the director of operations for the Gamecocks.
– Friday's game marks the first for South Carolina since the Nov. 24, 84-72 win vs. FIU, a 12-day span in between games.
– Frank Martin owns a 4-3 all-time record vs. Oklahoma State, having faced the Cowboys several times during his head coaching stay at Kansas State. Martin owns a 1-2 record in games played in Stillwater.
– South Carolina owns an 8-11 all-time record against current schools in the Big 12, including an 0-1 mark this season after the Nov. 12 loss at Baylor.
– Senior guard Bruce Ellington began practice with the Gamecock men's basketball team on Tuesday, and is expected to see playing time in Friday's contest at Oklahoma State. Ellington led the Gamecock football team in receiving yards this season, collecting 635 yards on 43 catches and scoring six touchdowns. On the basketball court, Ellington owns career averages of 11.4 points, 2.8 rebounds and 3.0 assists in 30.7 minutes per game (77 games played).
– Junior guard Tyrone Johnson matched a career high with 18 points, and freshman guard Jaylen Shaw exploded for 16 points off the bench, in South Carolina's victory over Florida International on Nov. 24. Johnson contributed seven assists, and Shaw added five, in propelling Carolina to 19 team assists in the victory.
– Following Friday's game, South Carolina will have a 10-day break for final exams, before hosting Manhattan on Dec. 17. The game vs. the Jaspers marks the start of a 14-day stretch where the Gamecocks will play seven games, including three at the Diamond Head Classic in Honolulu, Hawaii, from Dec. 22-25.
– The Gamecocks are winless in two road contests this season, suffering a 66-64 loss at then-No. 23 Baylor on Nov. 12, before a 71-57 loss at Clemson on Nov. 17. The Gamecocks were unable to find an offensive rhythm in the contest vs. the Tigers, hitting just 35.4% (23-65) from the floor, and just 1-of-10 from 3-point.
– In two road contests this season, South Carolina has hit just 35.7% (41-115) from the field, and is averaging 60.5 points per game.
– Sophomore forward Mindaguas Kacinas posted his first double-double of the season and the second of his career with team highs of 13 points and 12 rebounds vs. Clemson on Nov. 17.
– Kacinas currently leads the Gamecocks and ranks fifth in the SEC with 9.3 rebounds per contest. His 4.3 offensive rebounds per contest are a team best and also rank second in the league.
– The Gamecocks rank third in the SEC and 21st in the nation (Dec. 2 rankings) in field goal percentage defense, as Carolina opponents have hit just 37.6 percent of shot attempts this season. Carolina ranks third in the SEC and 35th in the nation in scoring defense, as Gamecock opponents are averaging just 63.2 points per game.
– South Carolina suffered a two-point road loss at No. 23/25 Baylor on Nov. 12 in non-conference action, falling 66-64 to the Bears. Sophomore forward Michael Carrera was fouled on a shot attempt at the buzzer, but the officials determined the infraction occurred after time expired. Thornwell posted the first 20-point game of his young career in the Garnet and Black, and classmate, forward Demetrius Henry posted nine points, six rebounds and two blocks in the contest. Baylor now holds a 3-2 upperhand in the all-time series between the two schools.
– The Gamecocks used an 18-point effort from junior guard Ty Johnson to defeat visiting Longwood by 38 points, 82-44, on Nov. 9 in the season opener at Colonial Life Arena. Thornwell and senior guard Brenton Williams both added 14 points, sophomore forward Michael Carrera added 12 and sophomore forward Mindaguas Kacinas pulled down a career high 14 rebounds in the win. It marked the 13th-straight season-opening victory for the Gamecocks. 
Scouting Oklahoma State
The Cowboys enter Friday's contest with a 7-1 overall record, having most recently suffered a 73-68 loss to No. 21 Memphis

on Sunday

competing at the Old Spice Classic … The Cowboys are led by head coach Travis Ford in his sixth season … Oklahoma State is 4-0 in games played in Stillwater this season, averaging 102.0 points per game in those contests … In the Dec. 2 national rankings, OK State ranks fourth in the country in scoring offense (91.9 ppg) and fifth in scoring margin (+24.5) … Over the course of the last five games, OK State has made 50% of its shot attempts, and 41.6% of its 3-point shot attempts … Sophomore guard Marcus Smart, the preseason Big 12 Player of the Year, paces the team with 20.5 points per game, which ranks 47th nationally … Smart leads the Big 12 with 3.0 steals per game, ranking eighth nationally in the category … Sophomore guard Will Forte ranks 11th nationally in 3-point field goal percentage, hitting 56.1 (23-41) of his attempts this season.
Ellington Returns
Senior guard Bruce Ellington returns to the Gamecock basketball team for this week's trip to Oklahoma State. The Moncks Corner, S.C., native, missed the first four games, and all of preseason practice due to competition with the 8th-ranked Gamecock football team. On the gridiron, Ellington led the Garnet and Black with 635 receiving yards on 43 catches, including six touchdowns. Ellington's schedule between the basketball and football squads will be finalized following bowl announcements on Dec. 8.
Series vs. Oklahoma State
Friday's meeting marks just the second all-time between the Gamecocks and Cowboys, and the first since the 1975-76 campaign. South Carolina won that contest, 70-61, competing in the Carolina Classic in Columbia. Friday's trip to Stillwater will be the first for the Gamecocks.
By The Numbers
21 – South Carolina more than doubled its season average with 21 fast break points in the Nov. 24 victory vs. FIU. Carolina's previous high in the category this season was 14 in the season opener vs. Longwood.
9+ – Sophomore forward Mindaguas Kacinas has collected at least nine rebounds in three out of four contests this season, including a career high of 14 in the season opener vs. Longwood. He has led Carolina in rebounding three times this season, and six times in his career in the Garnet and Black.
50.8% – South Carolina shot a season high 50.8% (30-59) in the win vs. FIU. It was the highest percentage for Carolina since hitting 57.7% (30-52) in a win vs. Arkansas on Jan. 26, 2013.
14 – Freshman forward Demetrius Henry hit 7-of-10 attempts for 14 points, and pulled down six rebounds in matching a season high of 31 minutes played vs. FIU on Nov. 24.