USC Men's Hoops Heads To No. 25 Baylor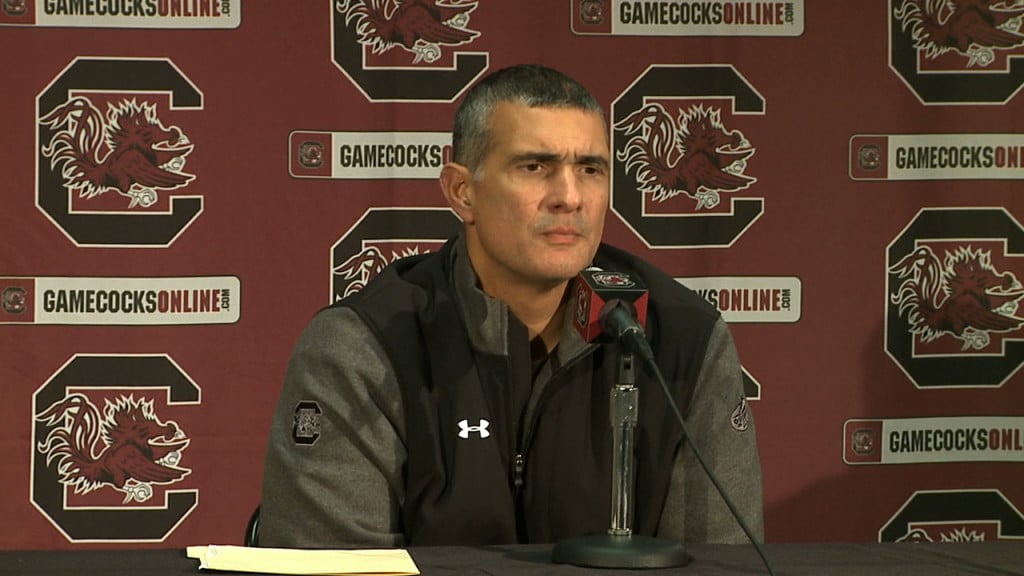 COLUMBIA, S.C. (USC SID) – South Carolina begins a stretch of three of its next four games on the road with Tuesday's ESPN College Hoops Marathon contest at No. 25/RV Baylor. The meeting marks the first between the two schools since the 2009-10 campaign, and the first in Waco since the 2008-09 season. Both the Gamecocks and Bears were victorious in their season openers last weekend, with Baylor defeating Colorado, 72-60, on Friday night in Dallas, before Carolina posted a 38-point win over visiting Longwood on Saturday afternoon.
Full Release: http://www.gamecocksonline.com/sports/m-baskbl/spec-rel/111113aaa.html
OPENING TIP
Date: Tuesday, Nov. 12, 2013
Tipoff: 3 p.m. ET
Location: Waco, Texas
Arena: Ferrell Center (10,284)
Series: The series is tied, 2-2
Last Meeting: Baylor win, 85-74, Jan. 2, 2010 in Columbia
Broadcast: ESPN/Watch ESPN
Talent: Jimmy Dykes (analyst), Fran Fraschilla (analyst)
Radio: Gamecock Radio Network/107.5 The Game in Columbia
Sirius: TBA; XM: TBA
Talent: Andy Demetra (pxp), Casey Manning (analyst)
Tickets: BaylorBears.com
Live Stats: GamecocksOnline.com
Carolina Quick Hits
– South Carolina is in its 106th season of basketball.
– The Gamecocks are led by Frank Martin in his second year. Matt Figger is the associate head coach, and Perry Clark and Lamont Evans are assistant coaches. Andy Assaley is in his second year as the director of operations for the Gamecocks.
– South Carolina head coach Frank Martin owns a 4-4 all-time record against Baylor, having played the Bears several times during his time as the head coach at Kansas State. In games played in Waco, Martin owns a 2-1 record.
– South Carolina's appearance in the College Hoops Marathon is its first in the event since the 2010-11 season when the Gamecocks traveled to then-No. 2 Michigan State on Nov. 16, 2010. Then-freshman Bruce Ellington scored 22 points in the contest, but the Spartans edged out the Gamecocks in East Lansing, 82-73.
– The Gamecocks used an 18-point effort from junior guard Ty Johnson to defeat visiting Longwood by 38 points, 82-44, 

on Saturday

 in the season opener at Colonial Life Arena. Freshman guard Sindarius Thornwell and senior guard Brenton Williams both added 14 points, sophomore forward Michael Carrera added 12 and sophomore forward Mindaguas Kacinas pulled down a career high 14 rebounds in the win. It marked the 13th-straight season-opening victory for the Gamecocks.
– Johnson received word prior to Saturday's game that he had been granted a waiver from the NCAA allowing him to compete effective immediately. Johnson has been eligible to practice since he transferred to South Carolina from Villanova in January 2013.
– Three freshmen marked the starting lineup for the Gamecocks and four newcomers overall in Johnson (guard), Thornwell (guard), freshman guard Duane Notice, and freshman forward Demetrius Henry, who joined returning sophomore forward Mindaguas Kacinas in the lineup.
– South Carolina won just two away contests combined during the 2011-12 and 2012-13 seasons. The Gamecocks look for their first non-conference road win since a 58-55 win at Clemson on Dec. 4, 2011.
– Carolina averaged 58.9 points per game in away games last season. Carrera and Williams both averaged 9.7 points in away contests a year ago.
– South Carolina shot 62.5% (15-24) during the second half of Saturday's contest vs. Longwood, the best one-half percentage for the Gamecocks since hitting 71.9% (23-32) during the first half vs. Jacksonville on Dec. 7, 2012.
– South Carolina returns seven letterwinners to its squad this season, including senior guard Brenton Williams, the team's top returning scorer from a year ago when he averaged 11.0 points per game. Also returning to the bench this season for the Garnet and Black are senior guard Bruce Ellington, who will join the team at the conclusion of the football season, sophomore forwards Michael Carrera, a 2013 SEC All-Freshman Team selection, Laimonas Chatkevicius and Mindaugas Kacinas. Sophomore guard Austin Constables and forward Brian Steele also return for Carolina.
– The Gamecocks will hold a young roster this season, welcoming seven freshmen to Columbia in forwards Demetrius Henry, Desmond Ringer, Reggie Theus Jr., and guards Duane Notice, Justin McKie, Jaylen Shaw and Sindarius Thornwell. Transfer guard Ty Johnson joined the program last January via Villanova.
– Justin McKie, son of Gamecock great BJ McKie, was named South Carolina Mr. Basketball, and also the Gatorade South Carolina Boys' Basketball Player of the Year last spring after leading his Irmo squad to the state championship behind a 20-point, 10-rebound performance at Colonial Life Arena.
– South Carolina returns 52.1 percent of its scoring from last season and 47.3 percent of its 3-point field goals.
– Entering the season, senior guard Brenton Williams ranked fourth all-time in the Gamecock record book in 3-point field goal percentage, hitting 39.5 percent of his attempts. He paced the Gamecocks last season hitting just shy of 40 percent from beyond the arc. 
– South Carolina's non-conference schedule features 14 games, including seven home contests. Highlighting the non-conference schedule is a holiday tournament at the Hawaiian Airlines Diamond Head Classic in late December, and a mid-day contest at Baylor as part of the ESPN College Hoops Marathon in early November. South Carolina also travels to Oklahoma State in early December for the Big 12/SEC Challenge. 
Scouting Baylor
Baylor entered the 2013-14 campaign ranked No. 25 in the Associated Press' Top 25 Poll and receiving votes in the coaches poll. The Bears are the reigning NIT champs, and return seven letterwinners to their squad this season, including senior forward Cory Jefferson and sophomore center Isaiah Austin, who were both named to the Big 12 Preseason Squad earlier this fall. Baylor was picked to finish third in the Big 12 Preseason Poll in a vote by the league's head coaches in late October. The Bears welcome six newcomers to their roster this season. The squad posted a 72-60 victory over Colorado in the season opener last Friday, paced by Jefferson's 12th-career double-double of 13 points and 11 rebounds. The contest versus Colorado was played at the American Airlines Center in Dallas.
Series vs. Baylor
The all-time series with the Bears is knotted at 2-2, with each team winning both of its away contests in the series. Baylor won the most recent meeting between the two schools in 2010, but the Gamecocks won the 2009 contest in Waco, 85-84 on a lay-in from Zam Fredrick with just 5.1 seconds remaining in the contest. That win marked the first over a ranked opponent on the road for Carolina since a win over then-No. 8 Cincinnati on Feb. 15, 1997.
By The Numbers
83.3% – South Carolina hit 83.3% from the free throw line, hitting 20-of-24 attempts in the victory vs. Longwood on Saturday. It was the best percentage for the Gamecocks for games in which the squad had at least 20 attempts from the stripe since hitting 26-of-31 (83.9%) in last season's lidlifter, a 82-75 OT win vs. Milwaukee.
50 – South Carolina's 50 rebounds vs. Longwood marked the most in a contest for the Gamecocks since collecting 53 in an overtime win at Western Kentucky on Nov. 27, 2010. It was the most in a non-OT game since the game just before when Carolina collected 55 rebounds in a 57-41 win vs. USC Upstate on Nov. 23, 2010.
36 – South Carolina posted 36 points in the paint vs. Longwood, well above its average of 27.3 points in the paint per game last season.
7 – Seven Gamecocks played at least 19 minutes vs. Longwood, led by freshman forward Demetrius Henry's 31.
22.8% – South Carolina held Longwood to just 22.8% (13-57) from the floor on Saturday, a new Colonial Life Arena record for lowest percentage. Longwood's 44 points in the contest were the fewest for a Gamecock opponent since SE Louisiana scored 43 on Dec. 21, 2011. It was the largest margin of victory for Carolina since defeating Alabama A&M 88-50 on Nov. 13, 2009.
Up Next
South Carolina continues non-conference action on the road when it travels to archrival Clemson on Sunday, Nov. 17, for a 5 p.m. ETmatchup. The contest will be broadcast on ESPN3.