SC treasurer: S&P's action may not hurt SC rating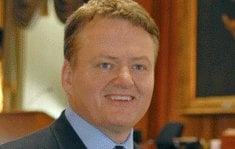 COLUMBIA, S.C. (AP) — South Carolina's treasurer says a decision to downgrade long-term U.S. debt's top-notch bond rating may have little effect on the state, though nothing's certain.
Treasurer Curtis Loftis said Monday that Standard & Poor's may decide to leave South Carolina's rating at AA-plus, the rating it gave the federal government Friday.
South Carolina is rated at the top by the nation's other two main credit-rating agencies. But it's been a notch lower with S&P since July 2005.
Loftis says South Carolina's blended rate still allows the state to enjoy the best rates when it borrows money for everything from road projects to school buildings.
Loftis says South Carolina's blended rate is within the top 15 nationwide.
Fewer than 10 states have top notch ratings across the big three rating agencies.