Lexington sheriff helps out American Legion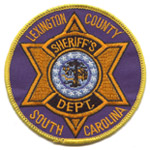 CHAPIN, S.C. (AP) — Authorities in Lexington County are helping raise money for the American Legion.
Sheriff James Metts is teaming up with the Chapin police department and American Legion Riders Chapter 193 for a motorcycle benefit ride and chili cook-off on Saturday.
The event benefits college scholarships that are awarded by the American Legion Legacy Fund.
Metts says the fund provides college scholarships for students whose parents were killed in the line of duty while serving in the United States armed forces during the wars in Iraq and Afghanistan.