8 People Escape Early Morning House Fire in Irmo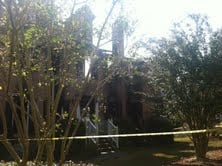 COLUMBIA, S.C. (WOLO) — "It's heartbreaking because you can't help but think, what if it were your own family in that predicament?," says John Hendrix, Assistant Fire Chief with the Irmo Fire District
According to the Irmo Fire District, eight people escaped an early morning house fire at a home on the 100 block of Sandstone Drive in the Avalon subdivision. 
"You could feel the heat. By the time we got to the stop sign, the whole house was engulfed," says Thomas Peterson, a neighbor. 
Hendrix says they got the call around 5:35 Friday morning. The Irmo Fire District, Lexington Fire Department and Columbia Fire Department responded. But, when they arrived on scene the home was already engulfed.
"It was through the roof," says Hendrix
Neighbors tells us they rushed over hoping the family inside was okay, and they were. 
The family of eight including a mother, father, their five children and a grandparent, who was visiting, had all made it out safely before crews arrived.
Hendrix says one of those individuals called 911 for help. 
Hendrix also says firefighters were also able to get a family car, that was parked in the garage, out of the burning home. 
ABC Columbia News has also learned the family's pet dog escaped, only to run away. A family friend tells us the dog is a female, black lab about 10-12 years old named Gator. Neighbors were planning a search for the dog Friday afternoon. If you see Gator, call the Irmo Fire District at 1-803-798-4979. 
Fire officials say the home was a total loss, but the cause of the fire is still unknown. 
The American Red Cross is assisting the family.