Clemson Bashes Virginia 59-10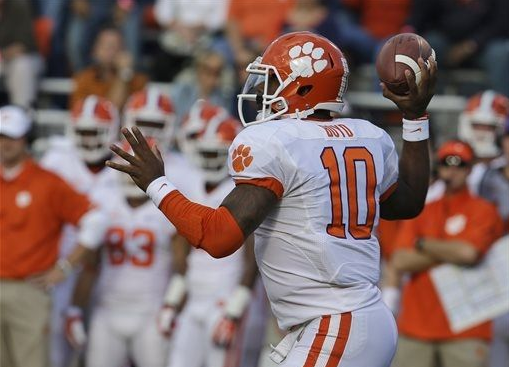 CHARLOTTESVILLE, Va. (AP) — Tajh Boyd sent Sammy Watkins out wide to the right, and saw freshman Tim Harris sliding over in man-to-man coverage.
Clemson faced a third-and-15 from its 4 yard-line, a situation that usually calls for a more conservative play call, but Boyd saw the home run potential of the matchup and went for it.
Moments later, Watkins was easing into the end zone after a 96-yard touchdown catch that gave the eighth-ranked Tigers a 42-7 lead against Virginia, and Boyd and Watkins were done for the night in what became a 59-10 victory on Saturday.
"When they're out there," Boyd said of Watkins and fellow speedy receiver Martavius Bryant, "you've just got to throw your arm out, honestly, and they'll run and go get it."
The Tigers did plenty of that in what Boyd and coach Dabo Swinney called their most complete performance of the season. It came two weeks after their worst, a 51-14 loss to No. 3 Florida State, and marked the start of a big finish, Boyd said.
"November is when we want to play our best football," Boyd said. "Hopefully we put a stamp on it today and we're just going to try to take off from here."
The Hampton, Va., native played one half and one series, and became the Atlantic Coast Conference's career leader in touchdown-making with a 33-yard pass to Watkins to start the scoring for the Tigers (8-1, 6-1 ACC). It broke a tie at 112 TDs with North Carolina State's Philip Rivers. Boyd later added TD throws of 10 yards to Roderick McDowell and the 96 yarder, the longest completion of his career, and the longest reception of Watkins' career. Boyd also scored on a 1-yard run.
"Tremendous performance by that young man," Swinney said.
Virginia (2-7, 0-5) lost its sixth in a row and 15th in its last 19 tries. It also suffered its second 59-10 loss at home this season, having lost by the same score against No. 2 Oregon in the second week of the season.
"We have no choice but to keep our confidence up," linebacker Henry Coley said after the Cavaliers were also eliminated from bowl contention for the second season in a row. "There are still three more games to play."
Boyd finished 24 of 29 for 377 yards. He's now been in on 116 career touchdowns, with 93 through the air and 23 running. He's also 4-0 against teams from his home state, having won three prior meetings against Virginia Tech.
Watkins caught eight passes for 169 yards and two scores. It was his sixth 100-yard game this season.
The Tigers wasted little time asserting their dominance, taking the opening kickoff and driving 75 yards in six plays and taking just 1:27 off the clock. Boyd hit Watkins three times, the last for 33 yards.
Virginia pulled even after an exchange of punts, Watford running it in from the 6 to cap a 54-yard drive, but the Tigers responded immediately with another 6-play, 75-yard march to C.J. Davidson's 2-yard run. Boyd hit Roderick McDowell for 27 yards on a third-and-4 play and hit Bryant for 37 yards on the next play.
Anthony Harris' sixth interception of the season ended a Tigers' drive deep in Virginia territory, and Clemson punted twice and was stopped on fourth down on its next three possessions, but the Cavaliers could do nothing offensively.
When Watford overthrew Darius Jennings late in the half and Jayron Kearse intercepted and returned it 37 yards to the Virginia 33, the Tigers began a late scoring frenzy.
Boyd's screen pass to McDowell made it 21-7, and when Kearse stripped the ball from Khalek Shepherd on the ensuing series, DeShawn Williams recovered at midfield. Five plays later, McDowell ran into the line on third-and-1, broke quickly into the clear and went 25 yards for a touchdown that made it 28-7.
Boyd followed another three-and-out for Virginia by carving the defense up in a crisp eight-play, 86-yard drive. He was 6 for 6 on the drive for 84 yards, then ran it the final yard 0:13 before halftime.
"Probably our best drive of the year," Boyd said, "just because we were just out there playing, not really thinking."