Two Children Killed in Fire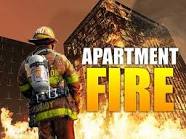 Irmo, S.C. (WOLO)–  Two children are dead following an apartment fire this morning in Irmo.   Officials with the Irmo Fire Department say the fire started just before 10:00 Wednesday morning at Saint Andrews Apartments.
   Investigators say three people were trapped inside one of the burning apartments, two of which, an 18 month old and a 5 year old died in the fire.
  In addition, more than 30 apartments lost power in the blaze.
  The cause of the fire remains under investigation.