Katelyn Dambaugh Claims Runner-up Honors At SEC Championship
By: USC SID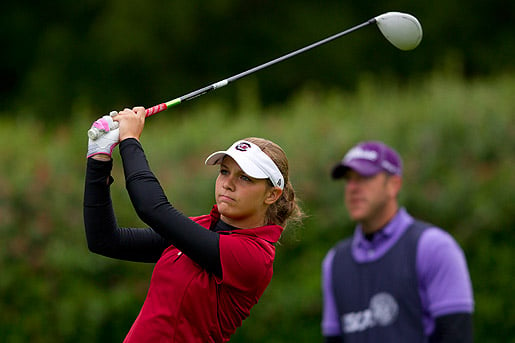 BIRMINGHAM, Ala. (USC SID) — South Carolina junior women's golfer Katelyn Dambaugh erased a six-stroke deficit and climbed to the top of the individual leaderboard before ultimately settling for runner-up honors at the SEC Championship on Sunday at Greystone Golf and Country Club. Dambaugh posted the low round of the week, a 6-under 66, in the final round to finish the tournament at 7-under 209 and two strokes off the lead.
Three Gamecocks notched rounds under par on Sunday for South Carolina, which moved up two spots to finish fifth (888, +24) at the 54-hole event. Alabama posted a final-round 281 (-7) to win the tournament with a three-day score of 859 (-5), while Florida (864, E) and Arkansas (882, +18) rounded out the top three. The Gators' Maria Torres edged out Dambaugh for the individual title with an overall score of 207 (-9).
Dambaugh's second-place showing was the highest finish for a South Carolina golfer at the SEC Championship since 2009, and her 209 fell two strokes short of the league tournament 54-hole record. The Goose Creek, S.C., native, who matched the conference championship's 18-hole mark last season with a 65, has finished par or better in four of her last five rounds at the event.
After making the turn at 1-under 35, Dambaugh caught fire and closed her tournament with a back-nine 31 (-5). An eagle on the par-5 11th jumpstarted the junior's run, and Dambaugh carried that momentum down the stretch, as she birdied each of her final three holes. For the second-straight day, she reached the par-5 18th in two and had a putt for eagle that would of equaled her record-matching 65 from a year ago. Dambaugh settled for birdie and became the clubhouse leader before Torres carded a back-nine 33 (-3) to secure the individual title.
Ainhoa Olarra capped off her impressive postseason debut with a 1-under 71 on Sunday to finish eighth (217, +1). Olarra's three-day score of 217 marked a career low for the San Sebastian, Spain, native, who earned a top-10 finish for the second time this spring. She boasted 12 pars and one birdie through her first 13 holes in round three, and the sophomore ended her back nine with birdies on No. 15 and 18.
Senior Sarah Schmelzel marked the third Gamecock to post a score under par in the final round. She carded a 1-under 71 to move up 14 spots and finish in a tie for 44th place (230, +14). Playing in her final round at the SEC Championship, the Phoenix, Ariz., native turned in a near-flawless performance. Her lone bogey of the day came on the par-4 fourth, and she played her final 14 holes at 2-under following birdies on No. 5 and 8.
Junior Jia Xin Yang ended the tournament in a tie for 66th (239, +23) after shooting a final round 81 (+9). Freshman Marion Veysseyre shot a 14-over 86 in round three to place 70th (243, +27) in her postseason debut.
SOUTH CAROLINA RESULTS
Katelyn Dambaugh 72-71-66=209 (-7)
Ainhoa Olarra 69-77-71=217 (+1)
T44. Sarah Schmelzel 82-77-71=230 (+14)
T66. Jia Xin Yang 76-82-81=239 (+23)
Marion Veysseyre 81-76-86=243 (+27)
TEAM STANDINGS
Alabama 286-292-281=859 (-5)
Florida 292-286-286=864 (E)
Arkansas 300-294-288=882 (+18)
Texas A&M 299-291-294=884 (+20)
South Carolina 298-301-289=888 (+24)
Georgia 296-296-297=889 (+25)
Mississippi 301-300-293=894 (+30)
Tennessee 297-305-294=896 (+32)
Missouri 295-303-302=900 (+36)
Vanderbilt 309-304-292=905 (+41)
LSU 305-303-303=911 (+47)
Mississippi State 305-303-306=914 (+50)
Auburn 304-311-304=919 (+55)
Kentucky 312-312-297=921 (+57)
QUOTING HEAD COACH KALEN ANDERSON
"We had three golfers play unbelievably well today. It was good to finish in the top five, and Katelyn had a phenomenal round. Sarah and Ainhoa backed her up, and we'll take that momentum going into regionals. We have a lot of really positive things to build on."
QUOTING KATELYN DAMBAUGH
"I came in here feeling very comfortable on this golf course. I knew I could do something really good, and I just tried to stay patient and focus on the shot that I had. It's really important to me to take advantage of the par-fives. Those should be birdie holes every time."
ROUND CHANGER
Katelyn Dambaugh's eagle on the par-5 11th triggered a strong back-nine performance that included birdies on each of her last three holes. The junior finished the week with the lowest par-5 scoring average (4.25), and she was one of four golfers to card an eagle at the tournament.
NOTABLES
South Carolina and tournament champions Alabama were the only two schools to have two golfers finish in the top-10 of the SEC Championship.
The Gamecocks have earned top-five finishes at the SEC Championship in six of their nine seasons under head coach Kalen Anderson.
South Carolina's 289 (+1) on Sunday marked the second-lowest round for the Gamecocks this spring.
Junior Katelyn Dambaugh's 209 (-7) this weekend was two strokes off of South Carolina's low-54 hole record. It was also the second-lowest total for a Gamecock at the SEC Championship.
With her runner-up performance, Dambaugh matched Kristy McPherson for the most top-five finishes (5) in a season by a junior in program history.
Sophomore Ainhoa Olarra's eighth-place showing matched the best finish of her career.
UP NEXT
South Carolina resumes postseason play next month at the NCAA Regionals, set for May 5-7. This year's regional sites are Stanford, Calif., Bryan, Texas, Baton Rouge, La., and Shoal Creek, Ala. The Gamecocks captured the 2015 NCAA East Regional Title, winning the event with a three-day score of 13-over (877).