No. 12 Gamecocks Selected To NCAA Columbus Regional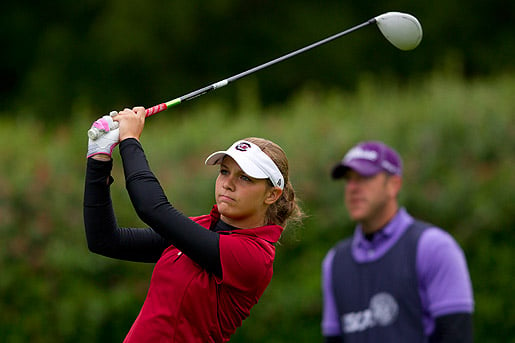 COLUMBIA, S.C. (USC SID) – South Carolina women's golf earned its 19th-straight NCAA postseason berth Thursday after being selected to the Columbus Regional. The No. 12 Gamecocks, who received the three seed in their regional, joined the 72-team field that was divided among four sites during this morning's NCAA Selection show on Golf Channel.
Carolina will compete in the 54-hole event at the Scarlet Course/OSU Golf Course from May 8-10. The top six teams from each regional site will advance to the NCAA Championship, set for May 19-24 at Rich Harvest Farms in Sugar Grove, Ill. The Gamecocks are one of five programs to reach the NCAA Championship in each of the last seven years.
Florida will head into the Columbus Regional as the top seed, while Florida State earned the second seed. Arkansas (No. 4), Texas A&M (No. 6) and Kentucky (No. 14) mark the other SEC schools set to compete in the region.
This season marks Carolina's 24th overall NCAA Regional appearance and the eighth time it has qualified for the postseason under head coach Kalen Anderson. The Gamecocks have won four regional championships under Anderson, capturing the East Regional in 2010, 2012 and 2015 before finishing atop the Baton Rouge Regional last spring.
Carolina heads into the NCAA postseason after notching top-five finishes in three of its five spring events. The Gamecocks opened the year with runner-up honors at the 2017 FSU Match-Up, and they tied for fifth at this past weekend's 2017 SEC Championship. Senior Katelyn Dambaugh captured medalist honors in record fashion Sunday, totaling a tournament and school-record 204 (-12) following her final-round 66 (-6). The win marked the second career victory for the Goose Creek, S.C., native, who won the individual title at the Baton Rouge Regional last year.
2017 NCAA Columbus Regional
May 8-10 • Columbus, Ohio • Scarlet Course/OSU Golf Course
Florida
Florida State
South Carolina
Arkansas
Colorado
Texas A&M
Purdue
Ohio State
Michigan
San Jose State
Houston
Louisville
Wisconsin
Kentucky
Old Dominion
Delaware
Missouri State
Cleveland State