Medal of Honor recipient Charles Murray dies in SC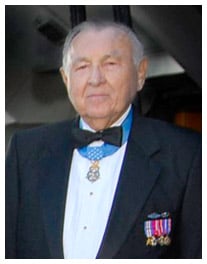 COLUMBIA, S.C. (AP) — A World War II hero who received the Medal of Honor for single-handedly stopping an attack on U.S. troops by 200 Germans in World War II has died at his Columbia home.
The son of Col. Charles Murray Jr. said his father died Friday from congestive heart failure while taking a nap. He was 89.
Murray received the highest military award given by the U.S. government for his actions as commander of a company in the mountains of far eastern France in December 1944. Military records say he killed 20 German soldiers and captured 10 more.
The funeral will be 3 p.m. Wednesday at First Presbyterian Church in Columbia. Burial will be at a special part of Arlington National Cemetery set aside for Medal of Honor recipients.