Clemson Honorary Captains Announced For S.C. State Game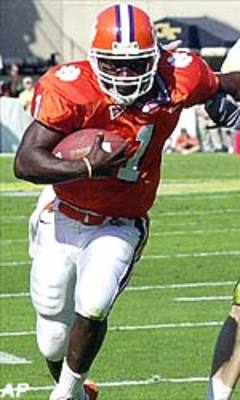 Clemson, SC (CU SID) — Former All-ACC players Woody Dantzler and Dexter Davis will serve as honorary captains for Clemson's football game against South Carolina State on Saturday.   Kickoff for the contest is 12:30 PM at Memorial Stadium.

Davis starred for the Clemson defense from 1988 to 1990.  He was a starting cornerback on Clemson's 1990 defense that led the nation in total defense. He was a first-team All-ACC selection in 1989 and 1990 and a freshman All-American in 1988, who went on to play six years in the National Football league.

Dantzler was one of the most exciting players in the nation from 1998-2001.  He the first-team All-ACC quarterback in 2001 when he became the first player in NCAA history to throw for at least 2000 yards and rush for 1000 in the same year.   The native of Orangeburg, SC,  is still third in Clemson history in passing yards and total offense.  He went on to play three years in the NFL.