USC Women Open Season At Colonial Life Arena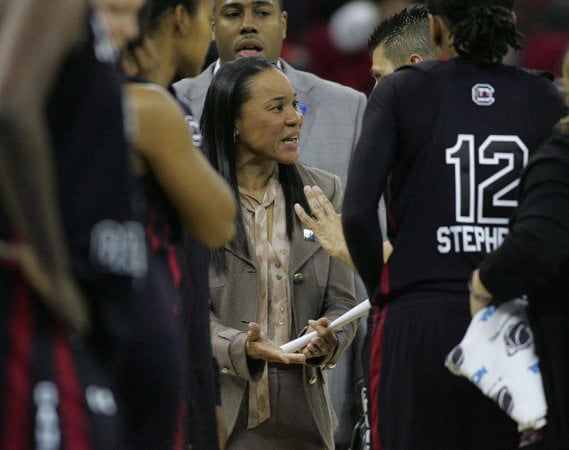 COLUMBIA, S.C. (USC SIOD) — No. 22/21 South Carolina hosts Charleston Southern in a 7 p.m. contest Fri., Nov. 8, at Colonial Life Arena. Coming off back-to-back 25-win seasons, the Gamecocks are opening a season in the national rankings for the first time since 1990-91. South Carolina plays its first four games at home this season, including Sunday's outing against Louisiana Tech (2 p.m.).
Find complete game notes and video of head coach Dawn Staley and Gamecocks Elem Ibiam and Khadijah Sessions previewing the game here: http://www.gamecocksonline.com/sports/w-baskbl/spec-rel/110713aac.html
Game Information
Opponent: Charleston Southern (0-0)
Date: Friday, November 8, 2013, 7 p.m.
Site: Columbia, S.C.
Arena: Colonial Life Arena (18,000)
Tickets: $7 adult, $4 youth (17 and under); GamecocksOnline.com
TV: None
Radio: WISW 1320 AM (Brad Muller); GamecocksOnline.com (Free)
Live Stats: GamecocksOnline.com
Live Video: GamecocksOnline.com (Free)
South Carolina Notables
*    In a vote of student-athletes and coaches, the team selected tri-captains this season – Elem Ibiam, Khadijah Sessions and Aleighsa Welch.
*    South Carolina holds the No. 21 spot in the USA Today/WBCA Preseason Coaches' Poll. The Associated Press Preseason Poll has the Gamecocks at No. 22. South Carolina was tabbed the No. 13 team in the nation in Lindy's Preseason Poll earlier this fall. This is just the eighth season in South Carolina history in which the Gamecocks have earned a spot in the AP preseason poll, the first of the Staley era as the last preseason rank came in the 1990-91 season ( No. 22). South Carolina has ended a season ranked among the nation's top 25 nine times, including the last two seasons.
*    Despite losing three starters from last season, the Gamecocks return 60.1 percent of their scoring and 61.7 percent of their rebounding.
Notes
A South Carolina Win Would…
*    Be the fourth in a season opener in head coach Dawn Staley's six-year tenure, but just her second at home as the Gamecocks have opened three of her six seasons on the road.
*    Give the Gamecocks a 28-12 all-time record in season openers.
*    Bring head coach Dawn Staley to 93 wins at South Carolina, leaving her eight behind Pam Parsons (1978-82) for third all-time in Gamecock women's basketball history.
By the Numbers
1.4     Average places by which the SEC coaches have under-rated South Carolina in their preseason poll compared to where the Gamecocks actually finished the season in the Dawn Staley era
2       Seasons in the Dawn Staley era in which the Gamecocks have won at least 25 games – a win total that was achieved just three times in the program's first 34 seasons
3       Members of this season's team that earned South Carolina Player of the Year honors in high school
4       Newcomers on this season's Gamecock roster
7       Gamecocks on this season's roster that played high school basketball in the state of South Carolina
21      Entries for the Gamecocks in the last 31 Associated Press Top 25 Polls
48      Points scored by the Gamecocks in each half of last Friday's exhibition game win over North Greenville
50.9    Points per game to which the South Carolina defense has held its opponents in the last two seasons, ranking among the nation's top five in the category both campaigns
60.1    Percent of last season's scoring that returns for 2013-14
61.7    Percent of last season's rebounding that returns for 2013-14
Charleston Southern Series Notes
South Carolina leads this in-state rivalry 6-0 with five of those contests played in Columbia. The teams have played intermittently over the last three decades, and tonight's will be the second meeting of the Dawn Staley era. The Gamecocks most recently renewed the series in the 2010-11 season with a 75-53 win over the Buccaneers on Dec. 1, 2010.
Scouting the Buccaneers
Charleston Southern enters the 2013-14 campaign looking to shake off an injury-plagued 8-20 effort last season. The Buccaneers are young, though, with just four letterwinners returning and five true freshmen on the roster. A trio of seniors will lead the team, all of which played significant minutes last season. Guard DJ Fowler started all 28 games and posted 10.6 points, 3.9 assists and 2.5 steals per game. Guard Erin Bratcher, also a starter, is the second-best returning scorer for the Buccaneers, netting 10.4 points per game last season behind 33.8 percent (77-of-228) 3-point shooting. Forward Anicia Dotson started 16 of her 27 games last season and is looking to contribute more in her senior season after averaging 5.1 points and 3.5 rebounds last season. Head coach Fred Applin is in his second season at Charleston Southern with a two-year career head coaching record of 24-47.
For Openers…
In its 40th season of women's basketball, South Carolina is 27-12 in season openers, including a 3-2 mark under head coach Dawn Staley. The Gamecocks have lost just once in 13 season openers at home. Tonight is just the third time South Carolina has opened at home during Staley's six seasons at the helm. South Carolina opened last season with a 77-44 home win over Elon, atoning for an 84-65 loss to then-No. 5 Xavier to open the 2010-11 campaign.
Guess Who's Back
The Gamecocks return six letterwinners from last season's 25-win team, including starters Aleighsa Welch and Tiffany Mitchell. The other four returners each played in at least 29 of last season's 33 games with two of those – Elem Ibiam and Khadijah Sessions – averaging at least 15 minutes. Eager to bolster the efforts of the veterans is redshirt sophomore Tina Roy. Fully recovered from her offseason knee surgery, the guard looks to improve on her 4.4 points per game as a freshman. She proved she is capable of delivering more offense toward the end of that season, averaging 8.7 points during the Gamecocks' three-game run to the SEC Tournament semifinals.
Fresh Look
South Carolina head coach Dawn Staley added four newcomers to this season's roster and will welcome the return of redshirt freshman Tiffany Davis, whose initial campaign was limited to three games by a knee injury. Local product Alaina Coates (Irmo, S.C.) headlines this season's crop of newcomers as the McDonald's and Parade All-American makes the site of her two high school state championships her college home court. Junior transfer Olivia Gaines was named the Junior/Community College Player of the Year by the WBCA last season after leading Louisburg College to the NJCAA Division II National Championship. Walk-ons India Farmer and LeAnna Morrison will battled for court time as well.