Haley says she will compromise on roads, but only so far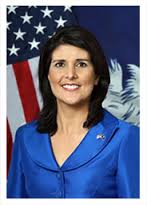 COLUMBIA, S.C. (AP) — Gov. Nikki Haley again warned she would veto a plan to raise taxes to fix South Carolina roads if it does not also provide tax relief.
At a news conference Thursday, Haley said she is willing to compromise with the House and Senate to find a plan to raise more money for state roads.
But Haley says a proposal also needs to have a tax break. Otherwise, she says she is willing pass on more money for roads this year, despite pressure from the business community, lawmakers and the public.
In her State of the State address Haley suggested a 10-cents per gallon increase in the gas tax and cutting the state income tax rate by 2 percentage points.