Vital Proteins collagen sold at Costco recalled over possible plastic materials
The brand backed by Jennifer Aniston recalled products in 20 states.
(ABC NEWS)—Vital Proteins issued voluntarily recalled of its product Vital Protien Collagen Peptide supplements due to possible broken plastic fragments in the tubs of powder.
The Franklin, Illinois-based brand, which is owned by Nestlé Health Science, first announced the recall in a notice sent to Costco on April 28, citing contamination from "pieces of one blue broken lid may be in one or more canisters."
The affected 24-ounce plastic containers bear the UPC code 857273008666 and batch code 30095993HA with an expiration of Jan. 9, 2028.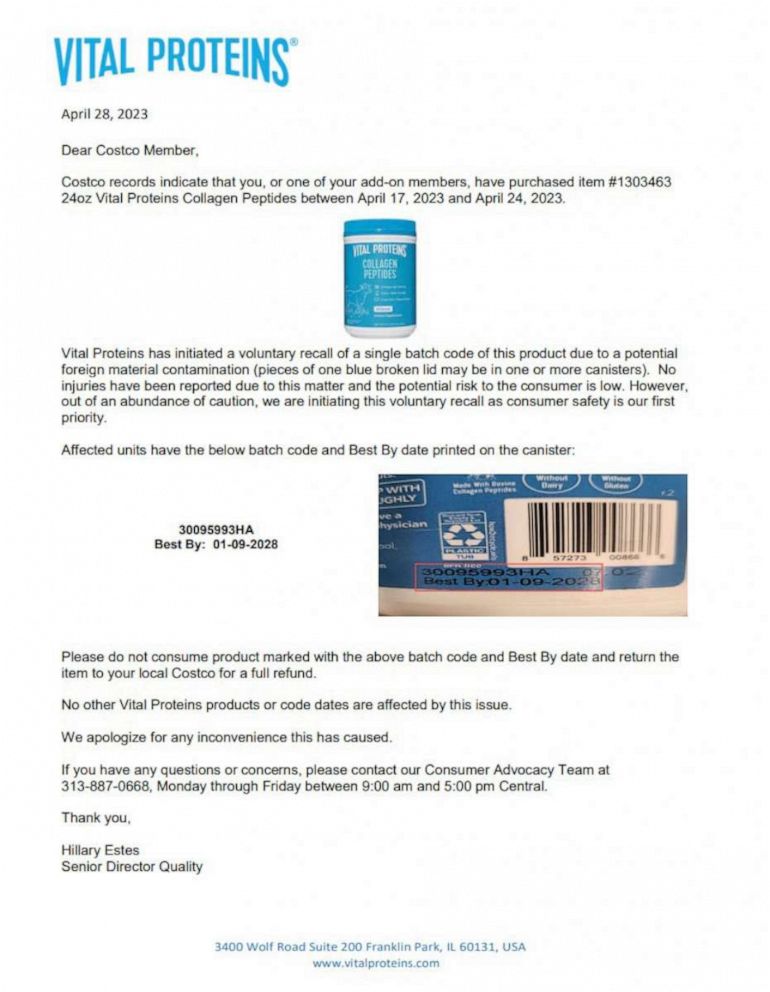 The recalled products were distributed to retailers across 20 states — Alabama, Connecticut, Delaware, Florida, Georgia, Iowa, Illinois, Indiana, Massachusetts, Mississippi, Missouri, New Hampshire, New Jersey, New York, North Carolina, Pennsylvania, South Carolina, Tennessee, Vermont, Wisconsin — as well as in Puerto Rico.
The powdered supplements that were part of the recall were sold at Costco from April 17 to 23, the company said in a statement to customers.
"Please do not consume product marked with the above batch code and Best By date and return the item to your local Costco for a full refund," the notice stated.
Vital Proteins does not currently have the recall information listed or available on its website or social media and did not immediately respond to ABC News' request for comment.
No injuries have been reported by Vital Proteins in relation to this recall.
The FDA referred ABC News to the company for comment.