ABC Poll: Cruz and Christie gain in popularity as Trump, Carson and Bush stumble

(ABC News) — Ted Cruz has reached top-rank popularity among Republicans and Chris Christie's favorability rating is most improved in the latest ABC News/Washington Post poll, while Donald Trump,Ben Carson and Jeb Bush all have stumbled in the battle for GOP hearts and minds.
On the Democratic side, Hillary Clinton continues to far surpass Bernie Sanders in favorability among party regulars, and she's vastly more popular within the Democratic Party than are any of the Republican candidates within the GOP base. Still, gender and racial gaps mark Clinton's standings, and Sanders pushes back among young adults, independents and the better-off.
Movement is greatest among Republicans. Trump's favorability rating within the GOP has dropped by 12 percentage points, from a high of 69 percent in November to 57 percent now; the decline has occurred almost exclusively among Republican women. Cruz, +7 points to 60 percent favorable, is +13 points among strong conservatives overall, a core GOP group; 76 percent now rate him favorably.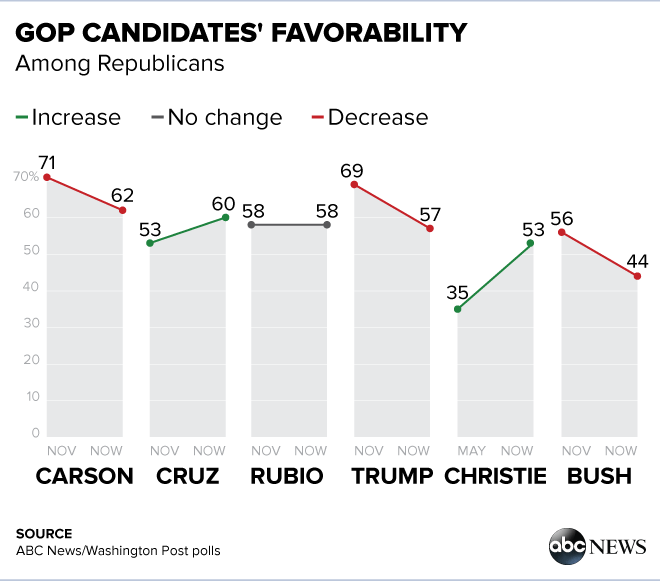 Christie, the big gainer within his party, has advanced by 18 points among Republicans -– 35 percent favorable when last tested last spring, 53 percent now. While his rating is mid-tier comparatively, he's supplanted Bush, who's lost 12 points since November. Just 44 percent of Republicans now see Bush favorably, a dismal score in his own party. He's at a new low in ABC/Post polling this election cycle; Cruz and Christie, at new highs.
Carson, while still broadly popular, has lost 9 points within the party, albeit to a still-tops 62 percent. Unchanged amid this churn is Marco Rubio, seen favorably by 58 percent of Republicans in this poll, produced for ABC by Langer Research Associates.
Favorable or unfavorable opinions constitute the most basic measure of a public figure's popularity, potentially a key factor in motivating voters to go to the polls – especially in low-turnout contests such as caucuses and most presidential primaries. Campaigns, as such, often look to boost their own candidate's favorability –- or to pull down their opponents'.
In-Party
Setting aside movement, top within-party ratings are held by Carson, Cruz, Rubio and Trump, seen favorably by 62 to 57 percent of Republicans, with Christie at 53 percent and Bush behind. Sanders is seen favorably by 58 percent of Democrats, in line with the top GOP in-party scores.
Clinton, by contrast, is popular with a vast 84 percent within her party. She gets some apparent help from the only non-candidate tested in this survey – Bill Clinton, who's got an 83 percent favorability score among Democrats, essentially the same as his wife's.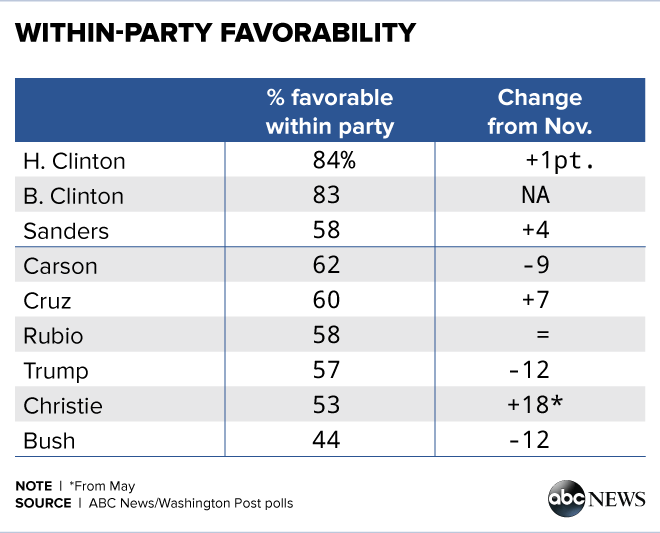 Most primary voters are party regulars, putting Clinton in a strong position, especially outside Iowa, an anything-can-happen contest marked by very low participation; and New Hampshire, where a disproportionate number of independents participate. Clinton's favorability rating among independents is just 44 percent; Sanders' is about the same, 46 percent. The GOP candidates' favorability among independents ranges from 36 to 42 percent.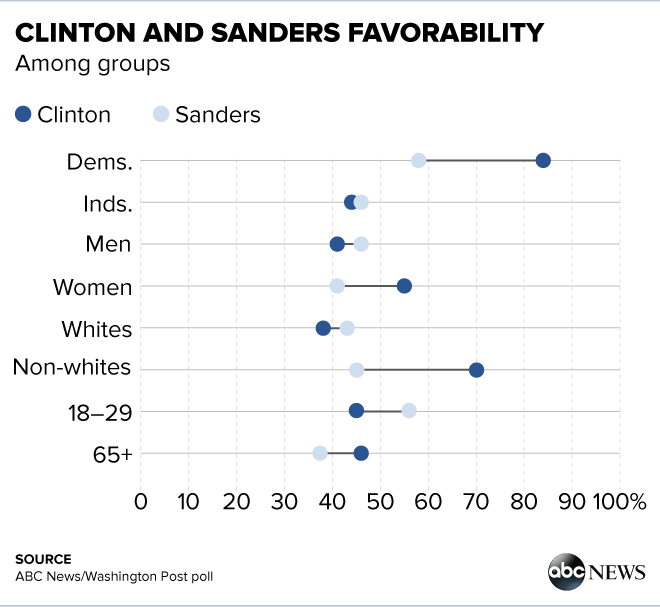 Cross-party ratings, for their part, underscore the extreme unpopularity of Clinton among Republicans (82 percent see her unfavorably) and of Trump among Democrats (85 percent give him the squint eye). Indeed, 67 percent of Republicans see Clinton "strongly" unfavorably and 71 percent of Democrats have a strongly negative view of Trump – high levels of strong sentiment.
Republicans are somewhat less critical of Sanders (63 percent see him unfavorably); the other top Republicans score similarly among Democrats, with unfavorable ratings of 61 to 68 percent. That includes a sharp 15-point jump in the number of Democrats viewing Carson negatively and +12 points in Democrats' negative views of Rubio.
Among All
Reflecting the public's general discontent with the state of politics, not one of these candidates has a majority favorable rating among all adults. Clinton and Sanders are close, at 48 and 44 percent, respectively. Cruz, Carson and Rubio are rated favorably by 42 to 40 percent of all adults; Trump, Christie and Bush by 35 percent. A crowd-topping 62 percent of Americans see Trump unfavorably; his only rival there is Bush, 58 percent negative.
Bill Clinton tops the popularity list with a 53 percent favorability rating – but that's down by 10 points compared with spring 2014, as he's re-entered the political fray on his wife's behalf.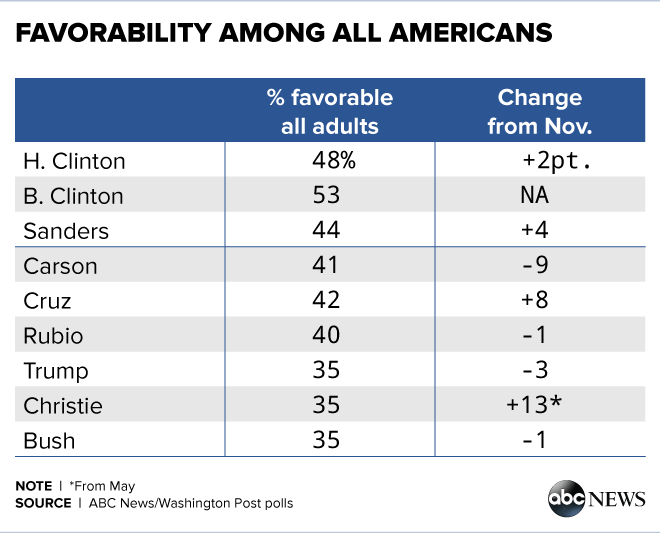 Groups
There are some telling differences among groups. Trump's favorability rating is just 18 percent among Hispanics and blacks alike, vs. 44 percent among whites. And Trump is seen favorably only by 28 percent of women, vs. 42 percent of men.
There's a sharp gender gap on Trump even within the GOP: He's popular with 67 percent of Republican men, compared with 48 percent of Republican women. He's lost 19 points among GOP women since November, vs. a scant -3 among GOP men. He also has dropped 16 points among less-educated Republicans, one of Trump's central support groups.
Bush, Rubio and Cruz stand out among their peers with favorable ratings of 44, 37 and 35 percent, respectively, among Hispanics, a growing population group. Sanders, generally weak among racial and ethnic minorities, is at 36 percent among Hispanics.
Clinton, by contrast, is seen favorably by 61 percent of Hispanics, as well as by 86 percent of blacks. Her favorability among whites, though, dives to 38 percent, 5 points shy of Sanders and trailing Carson, Cruz, Trump and Rubio alike (but not Christie or Bush).
Some of Christie's advance seems to reflect a sharpening of the partisan lens. Compared with ABC/Post data from last May, he's seen his biggest gains among conservatives (+23 points) and within his own party (+18). But he's also advanced among independents (+14).
On the Democratic side, Sanders' 56 percent favorability among adults younger than 30 compares with Clinton's 45 percent; however Sanders falls off among those 30 and up. Also, Sanders does best among adults with $100,000-plus incomes (56 percent favorable), while Clinton's best group is the less-than-$50,000 bracket (53 percent).
Finally, as noted, there's a sharp gender gap in Clinton's support: She's seen favorably by 55 percent of women overall, compared with 41 percent of men – a reverse of the gender gap in views of Trump.
Methodology
This ABC News/Washington Post poll was conducted by landline and cell phone Jan. 6-10, 2016, in English and Spanish, among a random national sample of 1,000 adults, including 277 Republicans, 316 Democrats and 359 independents. Results have a margin of sampling errorof 4 points for the full sample, and 7.5, 7 and 6.5 points for Republicans, Democrats and independents, respectively. The survey was produced for ABC News by Langer Research Associates of New York, N.Y., with sampling, data collection and tabulation by SSRS of Media, Pa. See details on the survey's methodology here.